Transportation in Belgrade
Arriving to the Best Western Hotel M from the Nikola Tesla Airoport
Option 1 - Shuttle transfer to Hotel
We remind you that shuttle transfer from the Nikola Tesla airport to the Best Western Hotel M and vice versa can be arranged by the Hotel. In this case, please indicate the your flight details / flight number, arrival/departure date and time.
Price: 15 Euro per person for one way transfer.
Confirmations are sent by e-mail. If you do not receive any confirmation within 7 days, please check back with the Best Western Hotel M.
Option 2 - Taxi ride
Secound option is a Taxi ride to hotel. There is a Taxi information stand at the international arrivals hall of the Nikola Tesla airport. If you wish to take a taxi to your destination, go to this stand and state your destination. You will be given a voucher with the price you will have to pay the taxi driver once you get to your destination. There are 5 zones with prices ranging from 1500 to 7000 dinars (around 15-70 Euro). New Belgrade and the city center are in the first, cheapest zone and getting there will cost you 1500 dinars (around 15 Euro). The Best Wester Hotel M is also located in the Zone 1. Apart from the voucher you will be given a leaflet with information on what to do if the taxi driver charges you more than the amount stated on the voucher. Once you obtain the voucher, exit the building and get the taxi. When you get to your destination, pay the taxi driver the fee stated in the voucher. Please don't forget to exchange money at the airport if you do not hold any dinars.
Option 3 - Public Transportation
Mini bus line: A1
Route: Direction A Slavija Square - "Nikola Tesla" Airport
Direction B "Nikola Tesla" Airport - Slavija Square
Route map and timetable can be found here.
Ticket price: 300 RSD (tickets can be purchased on the bus)
Approximate travel time: 30 minutes
Transfer from the Slavija Square to the Best Western Hotel M
Please see below this table how Public Transportation in Belgrade works
Version 1:

Bus 33, trams 10, 14, 9

.

Starting bus stop: Pancevo Bridge (33), Kalemegdan (10), Ustanicka (14), Blok 45 (9)

Bus stop: Slavija Square

Exit at: Vojvode Stepe Street – bus stop name: Kapetana Zavisica

Then walk along Kapetana Zavisica Street directly to the hotel (distance about 350 m).

Version 2:

Bus 47 & 48

Starting bus stop: Pancevo bridge (48), Square Slavija (47) –

Bus stop: Slavija Square

Exit at: Bulevar Oslobodjenja (Liberation Boulevard) - bus stop name: Bose Milicevic (before the hotel, distance about 300 m) or Mosorska (after the hotel, distance about 400 m).
Getting Around Belgrade
Belgrade does not have an underground railway system and it does not look as if it is going to get one soon (although it has one of the deepest tube stations in Europe, at 42m below ground level), but still it's public transport network cover almost all areas. City transport comprises buses, trams and trolleybuses.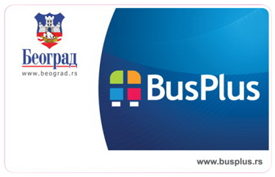 There are several types of tickets (image to the right):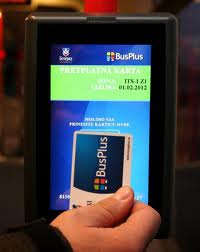 All tickets (except those bought from the driver) must be validated on machines inside the vehicle (image to the right). Every time you validate your ticket, the amount of 60 RSD will be subtracted from the total amount on your ticket (maximum amount on paper ticket is 600 RSD; while plastic ticket doesn't have upper limit)
Public transport runs from 04:00 to 00:00. During night time, buses run at 1-hour intervals. Night buses depart from special stops at the Republic Square towards other parts of the city. The night fare is 120 RSD, available on board (you can't use your daily ticket for the night rides, tickets must be bought on board). You are advised to avoid trams if you are in a hurry.
Transport authorities routinely check tickets for validation — especially at peak hours on major lines — and an infraction can leave you without €30.
Taxi Services
There are numerous taxi terminals throughout the city or you can flag one down on the street. Most hotels are happy to book a taxi for you with a reputable company and advise on the likely cost of the fare; prices are reasonable whenever you travel, but rise a little after midnight and on Sundays.

Taxi fares: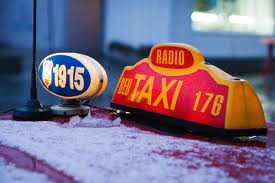 | | | | |
| --- | --- | --- | --- |
| Service | Tariff 1 | Tariff 2 | Tariff 3 |
| Start | 140 | 140 | 140 |
| Price per km | 55 | 70 | 110 |
| Waiting per hour | 750 | 750 | 750 |
Official taxis have a blue sign on the roof /the image above/ in contrast to a privately owned cabs having a white marker on the top.
Also, official taxis have their license plates ending with TX (for example: BG-1234-TX).

TAXI ASSOCIATIONS:

Alo taksi, 3564-555
Alfa M taksi, 9807
Beotaksi, 970
Beogradski taksi vozaci, 9801
Evro gold taksi, 329-1818
Žuti taksi, 9802
Lux taxi, 303-3123
Maksis taksi, 9804
Nacionalni taksi, 3777-999
NBA taksi, 3185-777

Novi plus taksi, 316-9999
CD Pepsis, 488-2200
Pink taksi, 9803
Radio taxi inbaco, 9801
Sindikat nezavisnost, 2520-025
SITAB, 060/880-10-10
Taksi Bel, 9808
City taxi, 394-0022
Cukaricki plavi taksi, 9805